Publications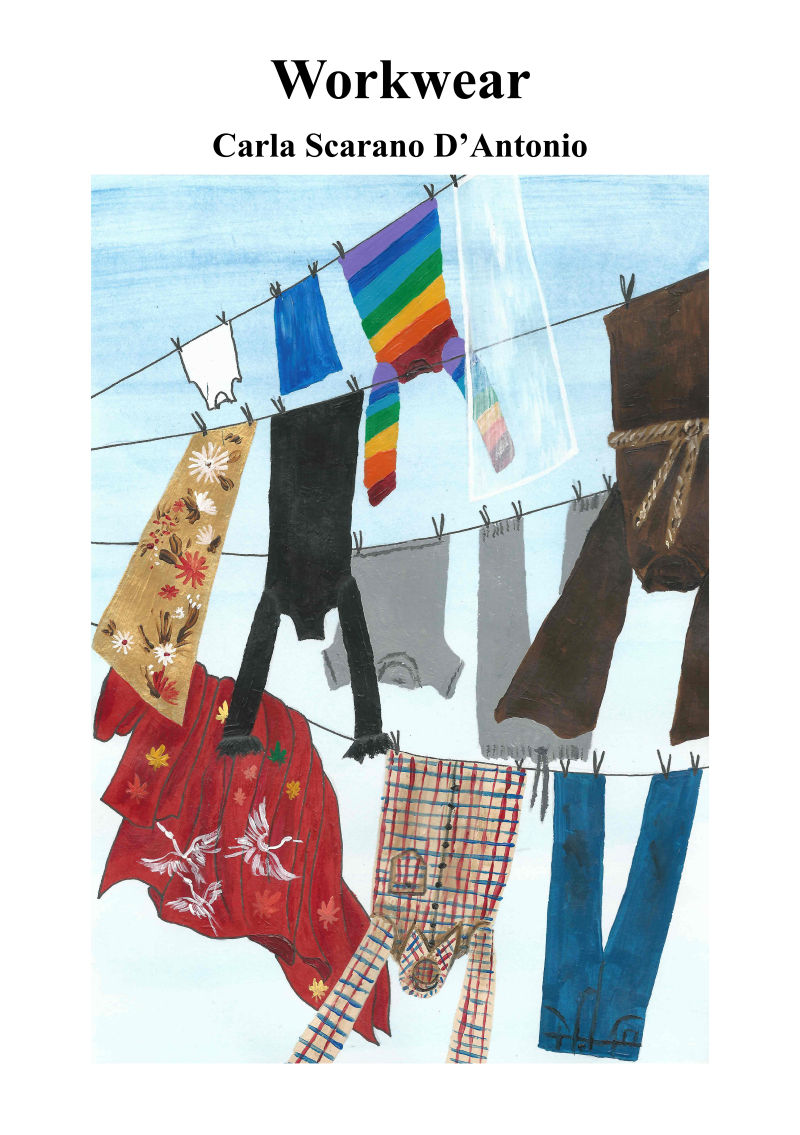 OTHER PUBLICATIONS
In Carla Scarano D'Antonio's poetry memories bide their time behind traditional family recipes. The vision conveyed in the poems offers a comprehensive view that includes joy and failure, worries and wonders, and memories of an ancestral past. Life is experienced in everyday quality evoked in a personal dimension of vital images. The sounds and rhythms coalesce in a final inclusive perspective that asserts confidence in an always renewable future.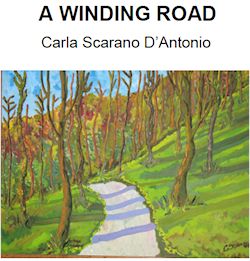 Click Here For A Winding Road
You can download or read on-line my pamphlet, A Winding Road, for free or order the hardcopy, contacting me by email.
Workwear by Carla Scarano D'Antonio
Very intriguingly, Workwear pulls together two contrasting kinds of poetry: reassuring and well-observed domesticity is often interrupted by muffled arguments from other rooms exposing truths we might prefer not to mention. Delightfully tender portraits of friends and family are interspersed with reminders that people are not always what they seem as clothing, jewellery, masks and armour are artfully used to enhance, conceal or defend appearances and attitudes. The poems are sometimes quite startlingly frank and even as they celebrate the peaceful fruits of human labour (wheat and corn stretch to the horizon) they insist on pointing out the bitter costs of human foolishness (toxic holes and quarries wound the land).
Michael Bartholomew-Biggs
I am here to tell the truth, D'Antonio writes…embroidering poems, imagining realities. She resolutely finds poetry woven into the fabric of the everyday and the domestic, connecting effortlessly with personas from the past, and with the reader.
Dawn Wood
These poems are extraordinary, in the full sense of the word, rich in texture and tone and with an emotional range that sweeps the reader on a journey through the colour, drama and intensity of poems in the first section and then, in contrast, leads on to the poignancy of poems about background and family such as the tender poem 'Valentina'. A stunning collection.
Mandy Pannett
Carla Scarano D'Antonio's poetry often explores complex themes, as well as what simply takes her eye, and what cannot be ignored: helmets in a war museum, masked faces, the isolation of lockdown, new beginnings. Yet at the core of this collection is family. Dedicated to her infant granddaughter, there are poems about grandmothers, parents, children, and a tender sequence on her rescued, adopted, special daughter. Poems that remind us that we are, in the poet's words, 'still tangible'.
Greg Freeman, Write Out Loud
This collection at once starts talking to you as though you were a close relative or friend. They stitch together, poems and stories about intimate moments of daily life that extend to her family and in the lives of others. As the poems continue to draw you in you realize that what they are really about is the difficult business of leaving home, finding a new one and coping with the consequences of change.
Rodney Wood
Links to Reviews:
Stephen Claughton on London Grip:
https://londongrip.co.uk/2022/11/london-grip-poetry-review-carla-scarano-dantonio-2/
Heather Moulson, Poetry basket:
https://heathermoulsonpoet.com/2022/11/14/poetry-basket-review-8/?fbclid=IwAR27tkpoRapS95Gor-KINBFfJyP-e7VtagsCD9VtuuU0tmZ8WOLuwFRtgDc

Dominic James:
https://www.pulsarpoetry.com/legal-notice/book-reviews-2016-to-2018/book-reviews-2022/
Ron Scowcroft:
https://www.writeoutloud.net/public/blogentry.php?blogentryid=127186
And here is an article about my writing in The Woking Writers' Collective: https://wokingwriters.blogspot.com/2022/11/introducing-carla-scarano-dantonio.html